Limoncello is probably one of the most famous alcoholic drinks you can buy in Campania. You can find it in almost all the local souvenirs shops or at the airport in all different bottle shapes and sizes.
It's the perfect gift to buy for yourself or friends and family if you are visiting Campania and you can't miss out on sampling it as a post-lunch or dinner treat while visiting the region.
Homemade limoncello is just as popular and every household has its own take on it, as do we. A few of the lemon trees in our Villa Di Martino's garden produce the exact type of lemon used to make limoncello and so from time to time, we make our own produce.
Originally made for our own leisure but since we started to open our Villa doors to guests we felt it only right to share a small glass as a welcome to all our guests who stay with us. Many of our guests don't miss out on the chance to buy their own bottle of our homemade limoncello to take back home with them or with them on their next trip.
And so, we thought why not share our homemade recipe? Here is our Villa Di Martino take on homemade Limoncello…
Limoncello – Ingredients for one bottle
Week one
1 litre of alcohol at least 95% ABV
300gr of Campania lemons of which you will only need the skin
Week two
1 litre of water
700gr of caster sugar
Limoncello – Step by step
Step One
Place a large transparent glass container on a scale and start to peel the lemons carefully. Using a potato peeler is ideal and it's important that you keep only the peel – no pith!
Pour alcohol over the top of the peel inside the glass container and leave it to rest for at least a six to seven days. During this time make sure to stir it and shake it so that the alcohol can absorb the flavor and the color of the lemons. Sit tight and we'll see you again in a week's time, ciao!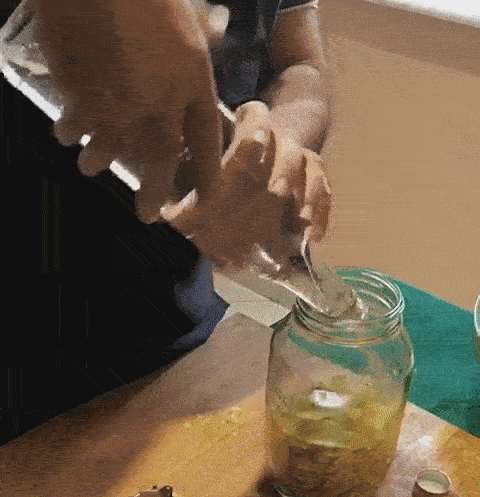 Step two
Use the ingredients listed under 'week two' above to prepare a syrup. Heat the water and sugar in a saucepan until it starts to form some bubbles on the surface.
Switch off the stove straight away and leave it to rest until it cools down.
Once the syrup is cooled you are ready to pour in what been resting for a week in the glass container. Use a colander to filter the mixture while stirring it in the syrup. Mix the two and make sure it's all combined well.
Your own limoncello is now ready, congratulazioni! (Well, almost…)
Before you can start to enjoy it pour the limoncello by using a funnel in a sterilized glass bottle of your choice and leave it to rest for 30 days.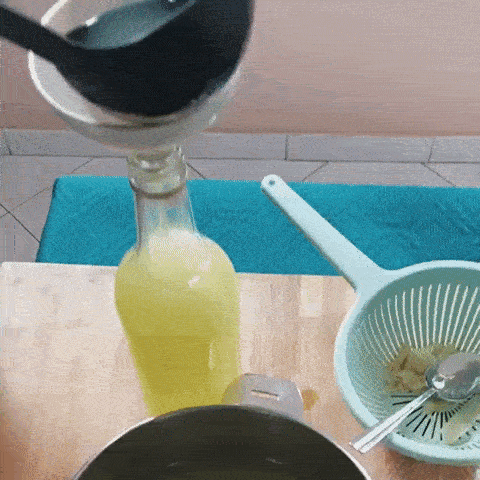 After 30 days enjoy your limoncello anytime you fancy and remember to enjoy it COLD and store it in your freezer.
---
Photos by Andrea
Enjoyed the article? Don't forget to share it using the icons below! Also, we'd love you to give us a follow over on Facebook, Twitter and Instagram.
Looking ahead and want to plan your next trip? Make sure to check out our apartments via our 'Stay with us' section! We'd love to welcome you to our Italian home!
Thank you for visiting our website. To learn more about 'Our Story' click here.